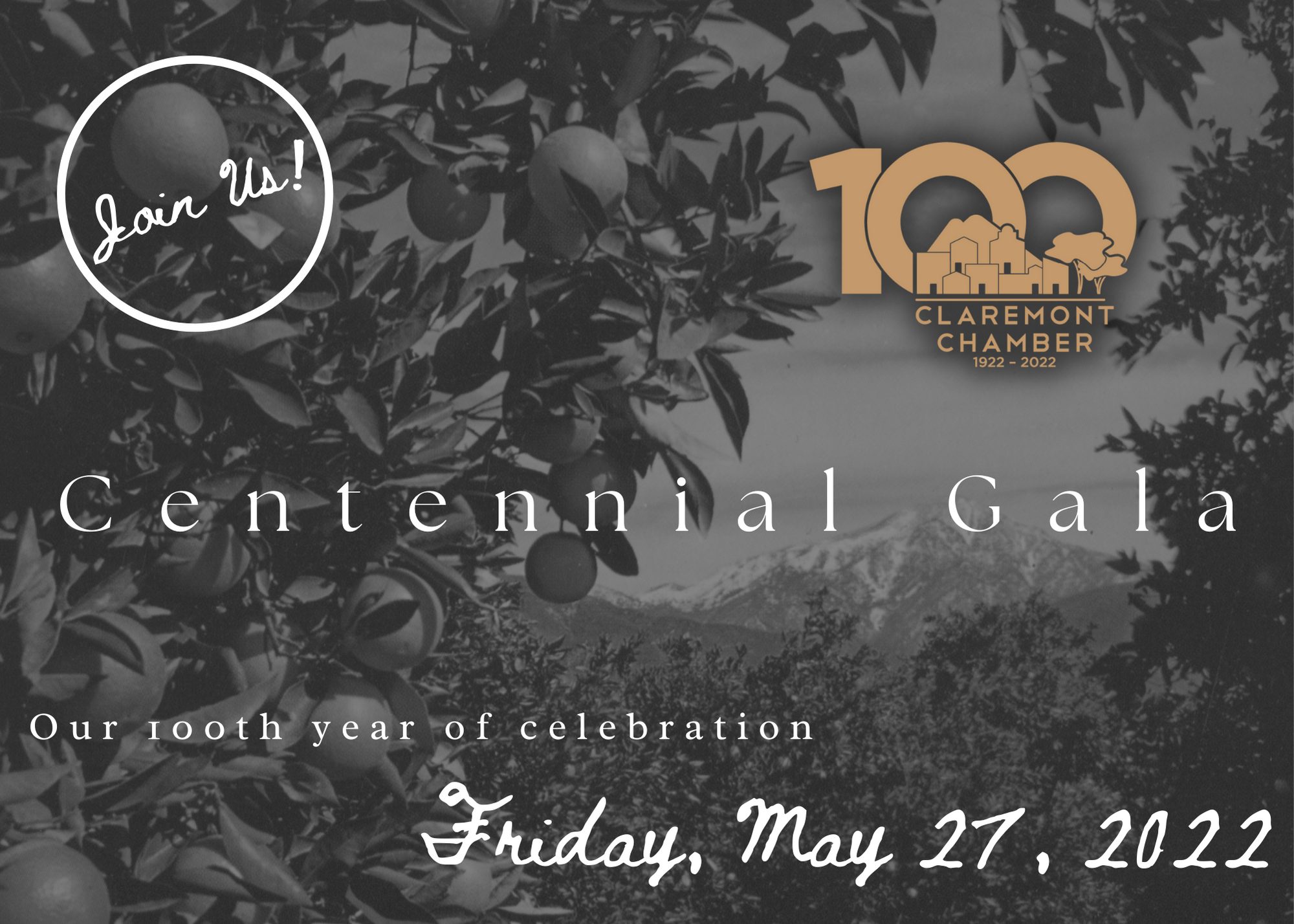 Tickets also being sold by:
Centennial Committee
Sonja Stump Photography - 135 W. 1st St, Claremont
Chamber Office - 205 Yale Ave., Claremont
The Claremont Chamber of Commerce is thrilled to announce that our Centennial Gala will be held on Friday, May 27 at 5:30 p.m., at Marston Quad in front of Bridges Auditorium.
Join us for a fun filled night of dinner, drinks, & recognition!
We are celebrating 100 years, having our Annual Installation for the Chamber Board of Directors 2022-2023 & presenting Claremont's Business of the Year Awards.
Small Business of the Year: Crème Bakery
Large Business of the Year: Ontario International Airport
Businessperson of the Year: Simon Brown
Non-Profit of the Year: AgingNext
We will have a special performance by Mariachi Arcoiris de Los Angeles, surprise guests & entertainment, interactive silent & live auctions. Buffet, wines, & signature cocktails will feature our beloved Chamber Members! This will be an exciting & fun filled event that is open to the entire community & that you won't want to miss!
This event not only celebrates our centennial but also kicks off the 100-year festivities to empower local businesses to thrive as the community begins to emerge towards a post-pandemic environment. Our Gala will also help continue our mission as we are committed to promoting business through advocacy, education & access to leaders & community organizations into the next 100 years!
We hope to see you there for a great old time!
*Please be advised that Marston Quad is a grassy area and you will need to dress accordingly.*
Take part in the celebration
Live & Silent Auction
We are currently putting together a silent & live auction for our event & we are looking to our community to help support our efforts!
If you would like to showcase your business by donating a service, product, experience, gift certificate, specialty item or fully formed basket of goodness, we welcome it!
If you would like to donate an item that can be put together with other items from member businesses to create Claremont-centric baskets/experiences, any small donation means the world to us!
If you need a certificate printed or made, we can totally do that, too!
We want to make it as easy as possible for you to be part of this marvelous event that will be such a wonderful example of how the Claremont Chamber brings us all together in support and celebration of our businesses and our community.
For live auction questions, please contact our Chamber Chair:
Steve Gerali, DPhil.DLitt
admin@sanctuaryclaremont.com
Sanctuary Coffee - Executive Director
863 W. Foothill Blvd,
Claremont, CA 91711
847.707.0826 Cell/Text
For silent auction questions, please contact our Centennial Gala Chair:
Emily Moultrie
emily@claremontcraftales.com
Claremont Craft Ales - Owner/General Manager
1420 N. Claremont Blvd., 204C
Claremont, CA 91711
909.625.5350 Brewery
909.576.2272 Cell/Text
PRESENTING CENTENNIAL SPONSOR