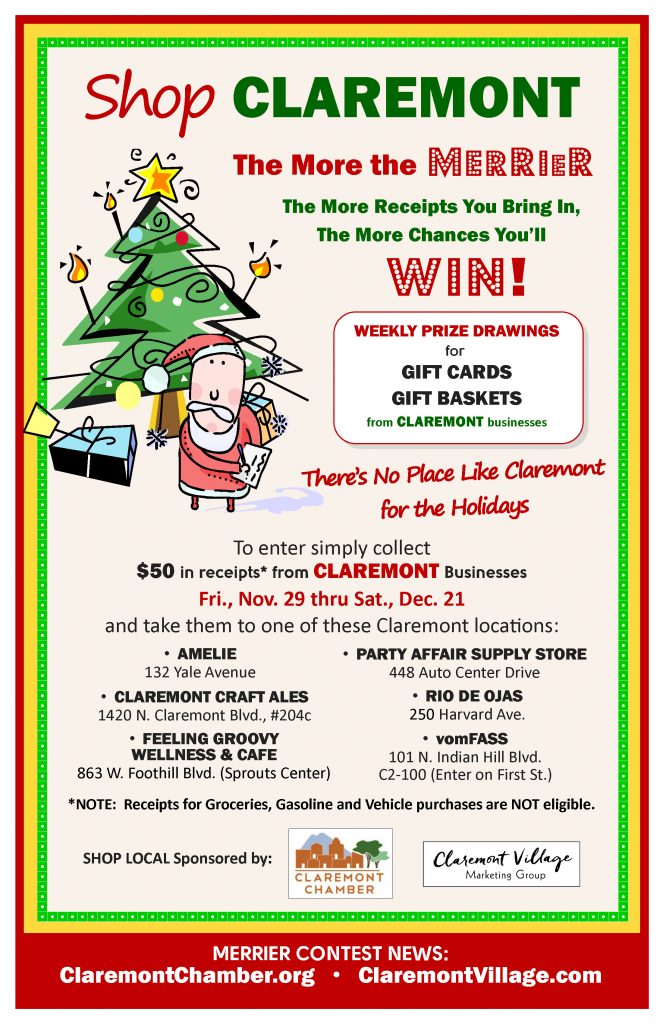 More the Merrier Holiday Shopping Campaign
Claremont Chamber of Commerce and the Claremont Village Marketing Group are sponsoring this Holiday Shopping Campaign. Let's make the cash registers ring!
Encourage your customers to bring their receipts to one of 6 locations though out Claremont to enter a drawing for prizes from Claremont businesses. For each $50 in receipts (can be combined) they receive an entry into a weekly drawing for prizes from Claremont businesses. There will be a grand prize at the end and at least one prize each week of the contest.
The more prizes/gift certificates that are donated, the more winners we will have. We want shoppers to spend Holiday  shopping dollars in Claremont!
Receipts collection sites are listed below:
Amelie- 132 Yale Avenue
Claremont Craft Ales – 1420 N. Claremont Blvd. #204C
Feeling Groovy Wellness & Café - 863 W. Foothill (Sprouts)
Party Affair Supply Store – 448 Auto Center Drive
Rio de Ojas – 250 Harvard Ave.
vom FASS - 101 N. Indian HillC2-100 (Enter on First St)
If you have any questions or you want to donate a prize please contact: Sonja Stump, 909-626-1147
sonjastumpphoto@gmail.com
The Claremont Chamber of Commerce is committed to promoting business through advocacy, education and access to leaders and community organizations.
Best BET Grants
Lunch Mobs
Happy Hours
CCYP Events
Los Angeles Largest Mixer
Business Over Breakfast 
Ribbon Cuttings
Multi Mixers
Women in Business Luncheons
Village Venture
Friday Nights Live